The Curriculumn

Worksheet - Credit Hours / Weeks of Study

Academic Program

When students arrive at La Escuela de Idiomas D'Amore, they are given an oral proficiency interview to determine their level. Based on this interview, they are placed tentatively in one of our six levels (Basic I and II, Intermediate I and II and Avanced I and II). Students can move up according to their progress.

Once placed in a classs, students will experience our total immersion methodology.
Our school follows the total immersion methodology; therefore, classes are conducted completely in Spanish, the interaction with families is completely in Spanish and the textbooks used at the school are also entirely in Spanish.

All the textbooks have been designed by the school and are patented and copywritten with the Library of Congress in the United States for their uniqueness. Each lesson in each one of the textbooks consists of four parts: "Let's get to know the culture" is an introduction to the Costa Rican or Latin American culture and introduces some of the items to be studied in vocabulary and
grammar; "Let's get to learn the vocabulary" focuses in the
learning of vocabulary; "Let's get to learn to grammar" analyzes
and reinforces some of the grammar; and "Let's get to practice
what we learned" is a general oral and written practice of what
was studied in the previous sections.
Since a good amount of our students are either doctors
or medical students, we have also designed a textbook
for Medical Spanish. In this textbook, medical students or
professionals of the Medical field can learn vocabulary of
the human body, illnesses, symptoms, etc.
We also offer free conversational sessions for one hour
everyday for those who want to enhance their speaking
ability, and a tutorial English class for those who have
difficulty with any item studied in class.
One day a week, students participate in a field trip that
focuses on a social or enviromental issue in the
Manuel Antonio area or the town of Quepos.
Also free conversational classes are always offered
for students to practice before and after class.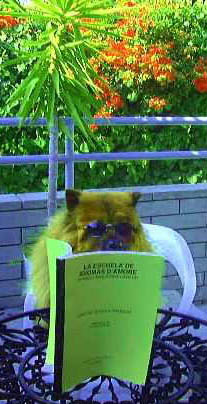 Questions? Comments? Email info@edcostarica.com


Costa Rica Contact Info
Escuela D'Amore:
Apdo.148-6350
Quepos, Costa Rica
Tel/Fax: 506-777-1143

USA Contact Info:
Escuela D'Amore
216 Tamoshanter Drive
Palm Springs, Florida 33461
Tel:1-800-261-3203