Escuela D'Amore prides itself on placing students with local host families. Staying with a family is not only one of the best ways to learn about Costa Rican customs, but your host family is also a great bunch of people to practice your Spanish with! Members of the family will assist in your homework preparation because they care about your success.


Your Homestay also includes two meals daily, laundry service, and a private room. You are treated as a welcome guest, but are always treated as one of the family. Most students find time spent with their host families one of the most valuable components of their experience in Costa Rica.

Volunteer Opportunities
There are several ways to enrich your experience in Costa Rica, and to learn the culture and the dynamic differences of its people. One of the most enriching ways is to volunteer your time and your skills at an agency or school in Costa Rica. Remember that these volunteer opportunities are not internships; they are unpaid and do not carry academic credit. They are an excellent way to improve your knowledge of the culture and to utilize what you have/ and are learning. Our office in Costa Rica will assist you in arranging your volunteer opportunities.

Some of the opportunities that exist presently are:

Grade Schools and middle schools - teachers aides and English tutors
Senior citizen programs - visiting and reading to the elderly
Medical facilities - various dutites as assigned
Physical therapy center for disabled children - general assistance
National Parks and reserves - assisting in research and education
Community level poverty feeding programs - assisting in the local efforts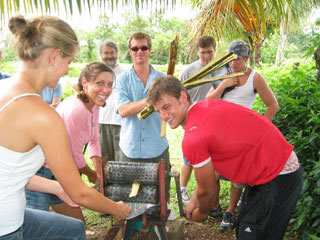 Whether you volunteer to spend your time providing support in rural communities painting schools or community centers, teaching, helping with the local soccer team, cooking, building, or simply sharing your humanness, you will enhance your Costa Rica experience beyond words.
Questions? Comments? Email info@edcostarica.com

Costa Rica Contact Info
Escuela D'Amore:
Apdo. 148-6350
Quepos, Costa Rica
Tel/Fax: 506-777-1143

USA Contact Info:
Escuela D'Amore
216 Tamoshanter Drive
Palm Springs, Florida 33461
Tel:1-800-261-3203